MOBILE APPS' ROLE IN THE FUTURE OF EDUCATION
Mobile apps have been increasingly playing a significant role in the education industry and are expected to continue doing so in the future.
These apps are designed to provide learners with easy access to learning materials and resources from anywhere and at any time. Students can learn and interact with their teachers and peers using mobile apps with today's trend of remote and online learning.
Furthermore, mobile apps can offer a personalized learning experience by allowing students to learn at their own pace, making it more efficient and effective. They can also incorporate gamification elements and other engaging features to make learning more fun and enjoyable for students. As the education industry continues to evolve, mobile apps will undoubtedly play an essential role in shaping the future of learning.
Top Apps Taking Over the Education Sector
In recent years, there has been a significant increase in the use of mobile applications in the education sector. These apps are revolutionizing the way we learn, making it more interactive, engaging, and accessible. Here are some of the top apps that are taking over the education sector:
Duolingo
Duolingo revolutionized language learning by transforming how people learn languages. The app offers courses in over 30 languages, making it accessible to a wide audience. It utilizes a gamified approach to language learning, making it fun and engaging.
Coursera
Coursera is an online learning platform that provides access to courses from top universities and organizations worldwide. The app offers self-paced courses in diverse subjects including business, computer science, social sciences, and humanities.
Quizlet
Quizlet is a study aid app that allows users to create flashcards and study materials for various subjects. It offers several study modes, including games, making it a fun way to learn and memorize information.
Khan Academy
Khan Academy offers free educational resources and videos covering a wide range of subjects, from math and science to art & humanities. The platform is ideal for students of any age and level, providing personalized learning opportunities to facilitate self-paced learning.
Edmodo
It is a social learning platform that allows teachers, students, and parents to communicate, share resources, and collaborate on assignments. It is widely used in K-12 schools and colleges.
Evernote
A note-taking app that helps students organize their notes, research, and documents. It allows users to create notebooks, tag notes, and sync them across devices.
Advantages of Mobile-Based Educational Apps
Mobile-based educational apps have become increasingly popular among educators and students alike. Here are some of the advantages of using mobile-based educational apps:
Accessibility:
Mobile-based educational apps are easily accessible from anywhere, at any time, making learning more convenient and flexible for students. This allows students to access learning material even outside the classroom or lecture hall, making it easier for them to study and review material at their own pace.
Personalized Learning:
Educational apps can be customized to suit the individual needs of each student. They can adapt to the student's learning style, progress, and interests, offering a more personalized and engaging learning experience.
Interactive Learning: 
Mobile-based educational apps often use gamification and interactive elements to engage students and make learning more fun. Interactive features such as quizzes, games, and simulations help to keep students engaged and motivated.
Cost-effective:
Educational apps are often less expensive than traditional textbooks and learning materials. This makes education more accessible and affordable for students, particularly those who may not have the financial means to purchase expensive textbooks.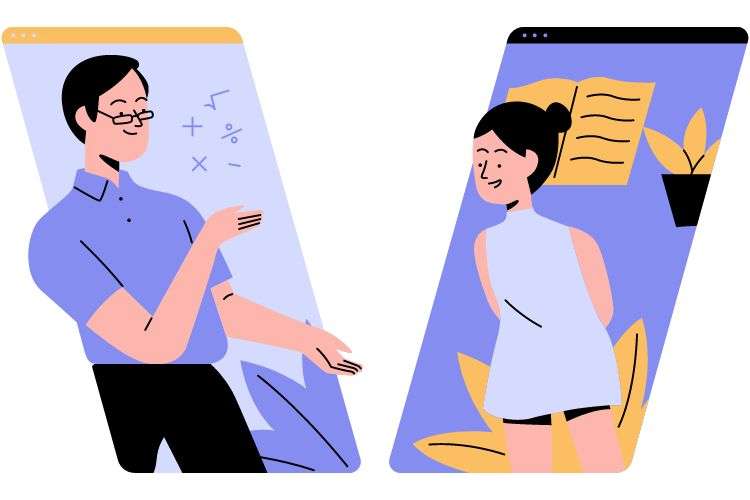 Collaborative Learning: 
Educational apps facilitate student collaboration and communication, improving their ability to work on assignments and projects together. This helps to foster a sense of community and encourages students to share knowledge and ideas.
Real-time Feedback: 
Educational apps offer instant feedback to track progress and identify areas for improvement. This allows for more efficient and effective learning.
Building a Customized Education App: A Guide to Developing Personalized Educational Software
Building a personalized educational app requires careful planning and execution. First, you need to identify your target audience and their specific educational needs. Then, you can determine the types of content, activities, and features that will best serve those needs. Consider using algorithms or machine learning techniques to customize the app experience for each user, based on their preferences, learning style, and progress. Incorporate interactive elements and provide feedback and rewards for user achievements to ensure app engagement and effectiveness. Finally, don't forget to test the app thoroughly and gather feedback from users to continually improve and refine the experience.
Develop Your Personalized Educational Mobile App with Bcoder Castle
Bcoder Castle is a software company that can help you to develop your own personalized educational mobile app. We can create a mobile app for you that is tailored to your specific needs, whether you are a teacher, a student, or someone looking to learn something new. We offer a wide range of features that you Choose from customizable templates, drag-and-drop functionality, and integration with LMS and CMS.
Whether you want to create an app for teaching a specific subject or skill, or you want to create an app that offers a range of courses. Bcoder Castle has expert education app developers to help you. You can choose from a variety of features, such as quizzes, videos, interactive modules, and more, to make your app engaging and effective.
We also offer analytics tools, which will allow you to track user engagement and measure the success of your app. With Bcoder Castle, you can create an app that will help you achieve your educational goals.
FAQs:
1. What is an Education App?
An Education App is a software application designed to provide educational content and services to users on their mobile devices, tablet, or laptops. These apps can be used for learning, teaching, or both, and they can cover a wide range of subjects and topics.
2. What are the key features that an Education App should have?
An Education App should offer a range of features, including content delivery in text, audio, and video formats, interactive quizzes, games, and simulations, personalized learning paths, and recommendations, integration with social media and communication tools, collaboration tools for teachers and students, progress tracking, and feedback mechanisms.
3. What are the challenges of developing an Education App?
Developing an Education App comes with several challenges, including creating engaging content for different learning styles, maintaining user engagement and accessibility across devices, ensuring privacy and security, complying with regulatory requirements, and scaling infrastructure to handle increased user traffic. Proper planning and execution are critical to overcoming these challenges and ensuring the success of the education app.